Our most commonly used cell phone repair tools
Whether you are performing a one time cell phone repair or plan to make a part or full time career fixing phones you will always want to make sure that you have the right cell phone repair tools for the job. Our instructional videos show which tools are required for specific repairs but if you want to prepare yourself for a wide variety of common cell repairs then you may want to invest in the following
Here's another heat gun made by Wagner
We work with screws that are the size of the letters on a coin. To get them to sit on the end of a screwdriver can be challenging to say the least. Magnetizing your driver first can make this task much easier. Just rub the end of your bit along the edges of this gadget and your screws will stick just like they do to your project mat. Don't want things sticking to your tools while you work? Just use the "Demagnetize" section and life will be much less frustrating.
.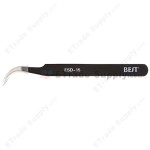 Working with small parts takes a steady hand, good eyesight and a pair of fine point tweezers. This pair not only has the ability to pick up very small parts but is also non-magnetic and will not conduct electricity.
Not quite so common these days you will only use this driver occasionally. Still, without it there will be no way to properly open devices such as the Samsung Galaxy 10.1 tablet and many phones
Safety glasses
Working with broken glass can be dangerous. While a small cut here and there seems to come with the territory and is easily treatable eye injuries are far more serious. Don't take chances with your sight. Always use eye protection when prying, cutting, or working with glass.
There are few things as frustrating as putting a phone back together and finding a fingerprint or dust particles between the lens and LCD. A good polishing cloth can help to assure that your surfaces are clean before you put everything back together. They also come in handy for wiping down the outside of your customers phone before you hand it back to him.
Cleaning the inside of a wet cell phone requires something that evaporates quickly. There are plenty of options for this task. The important thing is that whatever you use does not leave behind anything corrosive. Something like rubbing alcohol along with a soft bristle toothbrush can often remove most if not all of the impurities left behind by water, coffee, sodas, etc.
When cleaning a logic board it is important to be gentle. Using an ultra soft brush minimizes the risk of causing additional damage by scrubbing too hard. Easy does it. If you break one of the components off of the board you have done more harm than good.
Suction cup
Portable devices can be sensitive to static electricity. If you work on computers you know that RAM and processors can easily be damaged by a single spark. Cell phones are better protected but not immune to this kind of liability. Why not play it safe? An anti-static mat also gives you a nice surface to work on and can be used in conjunction with...
Easy to remove this anti static wrist band makes it easy for you to stay grounded while working with electronics. Need to walk a way for a minute? No problem. Just unsnap the bracelet from the grounding cord an in a split second you are disconnected. With another quick snap you are once again grounded and back to work.