It would be nice if every cell phone repair went as planned but an occasional complication is inevitable even for the best of us. There are a variety of issues that may be encountered once you take your phone apart so we will be adding many possible solutions to assist you here over time. Let's start out with the most common ones first.
"I replaced my screen but its not working properly." Try these steps to correct the problem.
Note to Apple users: For some reason iPhones, iPods, and iPads will sometimes require that a power supply be connected to the device after the LCD has been replaced. If you recently replaced your screen or simply disconnected the battery for some reason you might notice that either nothing is visible on the display or that all images are very dim as if the backlight is not functioning. You can try rebooting the device or performing a hard reset. If that does not remedy the situation it is a good idea to plug in a power supply. It may be necessary to first disconnect the battery, reconnect it, and then plug in your data cable. If this doesn't help you should then proceed to reconnect the LCD as it may not be seated properly.
Mobile screens are made up of a few major components. The first is a layer of glass that faces the front of the phone. This is the part that you touch when you operate your device although by itself this glass doesn't do much other than protect the other parts that are located beneath it. With older phones this piece may be made of plastic rather than glass. Typically these are phones with resistive rather than capacitive touch meaning that you literally press down on the screen rather than simply touch it. These are less sensitive than glass screens but also more durable because of their flexibility. They are also more prone to scratches.
Beneath the outer glass panel is the screens digitizer. This is the part that responds to the touch of your fingers or stylus. It senses where you are touching it and transmits this data to the logic board where this information can be processed. With most phones the digitizer is attached to the back of the glass lens so the two are generally not separated. With some phones the digitizer may be attached to the display but we will get to that in the next paragraph. In the case of the Galaxy Note series there is a special flex cable similar to a digitizer that is located beneath the phones display. This component is used for sensing the S-Pen stylus and does not respond to input from your fingers.
Your phone uses either an LCD- Liquid Crystal Display or an AMOLED- Active Matrix Organic Light Emitting Diode to show images on its screen. This display is very fragile but protected by the glass piece on the front side and a metal panel or mid-frame on the back. This is the reason that damaged cell phones often have cracks in the glass but the display and digitizer continue to function.
In some cases it is possible to replace the broken glass piece. Often in these situations that means replacing the digitizer too since it can't be removed without becoming damaged. Fortunately this piece is usually very inexpensive. Note that when dealing with some Galaxy series phones this digitizer is attached to the AMOLED rather than the glass. While this makes replacing the glass piece possible it does require some special equipment and experience. Many technicians break the AMOLED the first time that they attempt to remove the glass. For a one time do-it-yourself job it is usually best to purchase the entire glass-digitizer-AMOLED/LCD assembly to be sure that you are successful and don't end up with a damaged AMOLED or bubbles trapped between the glass and digitizer.
The image below shows an example of something that would prevent the phones screen from operating correctly. Take a look at the gold teeth. They should look perfect but one set appears to have had a hole burned into it. You can click on the image for a closer look.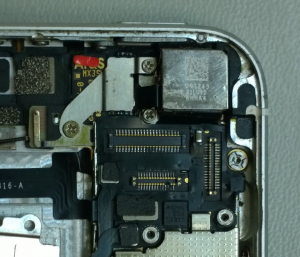 Once your screen has been replaced you might find that it doesn't work properly. There are many reasons that this might happen. The first thing that we want to determine is why you are having a problem. The steps below are recommended in order to determine what went wrong.
Check to see that the flex cables are connected properly. Often the connectors may seem to be plugged in correctly even though they aren't. It is also possible that something caused the cable to shift while the phone was being assembled after repair. In many cases simply unplugging everything and reconnecting it may solve your problem.
Inspect the part and the phone for less obvious signs of damage. It is possible that physical damage, exposure to moisture, or a number of other factors might prevent the screen from operating properly. Look very closely at the flex cable attached to the digitizer and LCD/AMOLED. These cables have a certain amount of flexibility but the smallest tear will cause them to cease functioning or at the least prevent them from working correctly. Also inspect the small gold metal part where they interface with the logic board. These should be perfectly straight and clean. Bending them even the smallest amount will cause problems as they require precise alignment. Use a magnifying glass to get a good look at them. Take a look at the connector on the logic board as well. Any signs of corrosion will look white or black. Sometimes it is possible to clean these with a soft bristled toothbrush and some rubbing alcohol. You must be very gentle though as they can be damaged easily.
Reconnect the old screen of possible. If you tried the steps described above and still have the same problem there may be something wrong with your replacement part. If the old part still works then you can be somewhat certain that your replacement part is either damaged, defective, or incompatible with your phone. This might not always be an option since your old screen may have been destroyed. In that case the only way to determine for sure where the problem lies is to either replace the part or test it with another phone.
Exchange the replacement part. While rare it is possible that you received a defective replacement part. Most vendors are very cooperative when it comes to making exchanges. If all else fails you should contact them and request that they exchange your screen. Keep in mind that if you damaged the part during installation then it really is not their fault and you should expect to pay for another.