Wera Kraftform Micro Pentalobe Precision Screwdriver

Wera 1460 Kraftform Micro ESD Pre-Set Torque Screwdriver 0.035 Nm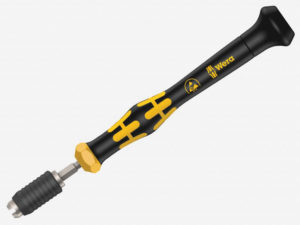 What is a Pentalobe screwdriver?
A lot of you already know the answer to this question. But even if you do there may be a few things that you don't know about Pentalobe screws. Many people make the mistake of confusing Pentalobe screws with Torx screws which are similar but different. Enough so that you can easily cause damage to the heads by trying to remove Pentalobe screws with a Torx driver. Absentmindedly picking up a Phillips driver and attempting to remove a Pentalobe screw can also be bad news. I've seen it happen more than once. The result is a stripped head on a very small screw which can be very difficult to remove at that point not to mention the fact that it will need to be replaced.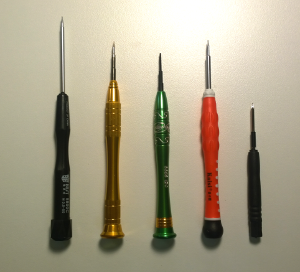 Tip: If you do manage to strip a small screw such as the one mentioned below try some duct tape. This may give you enough grip to remove the screw. Of course throw the bad screw out immediately and don't be tempted to use it again. For more help with stripped screws see this page.

If you want to know how to remove Pentalobe screws the answer is simple. Use the right bit or driver for the job. Pentalobe AKA Pentalobular screwdrivers, also known as TS1 screwdrivers come in more than one size. In most cases if you are working with an iPhone you will need a TS1 also known as a P2 or .8mm driver. There are also two larger sized Pentalobular drivers used for Apple computers. One is the TS4, or 1.2mm and the other a TS5, or 1.5mm. That is a whole lot of different names for the same type of driver. Using "T" anything also adds to the confusion since the Torx bits also use that designation.
Pentalobular screws have rounded point at the edge as opposed to the sharp points of a Torx screw. If want to know how to remove a Pentalobe screw without the right tool we should caution you once again. It is very easy to damage these screws even when you are using the correct driver. That said we have seen cases where people removed their screws using a very small slotted driver or even a nail that has a tip with four edges at the point. Again, this is not advisable.
As far as where to find a Pentalobe screwdriver your options are many. If you are looking for a quick solution you can usually find these at your local Fry's Electronics store or maybe even at a Radio Shack. If you can't make it to either of those locations you can always order them online from a large variety of vendors. In the section below we reviewed several Pentalobe drivers so that anyone considering this purchase for repeated uses can get an idea of what to expect, what to pay, and how long it will take for the driver to arrive.
Our first Pentalobe screwdriver is the least expensive and not intended for repeated use.
That said we do often use this type when training technicians as it helps get them used to the feel of how much torque should be applied when tightening Pentalobe screws. Too much force and you can easily strip them. This first driver is inexpensive and might even ship for free if you are purchasing a replacement part for an iPhone.
The next driver that we reviewed was the Kaisi. This is a definite step up from the first driver and is more comfortable to hold as well as being more durable. This driver comes in a kit with several other iPhone tools which is nice. If you're looking to bundle several items together this is a decent driver and the kit also includes the 1.2 mm Pentalobe driver. The Kaisi and all of the rest below have a rotating cap at the end of the handle in case you need to apply some pressure as you turn the screw. The Kaisi's didn't turn as easily but worked well enough.
Our next driver was the "BEST" green one from China. It took a while to get here but later we found a supplier that ships from Brooklyn so they can now be delivered in about two to five days. We really liked the feel of this one. We have several technicians who have been using this one for a couple of years now so we know that they do hold up well. It is also easy to spot the green handle in your toolbox when you need to reach for an iPhone screwdriver.
Currently unavailable
The gold "658" Pentalobe driver was on par in feel and durability with the BEST one above. We call it the 658 because that's the only thing printed on it other than "0.8X25mm." This one is of course also very easy to find thanks to it's bright color. It has a beveled area at the top and bottom ends that we assume was designed for better grip. This is a nice driver at a decent price.
Currently unavailable
Last but not least we have the Wiha. If you aren't familiar with this company you should look them up. Being a bit of a tool fanatic I always like to see who has the best of the best even in situations where I can't afford it. Lucky for me this German company makes a high quality precision Pentalobe driver that doesn't cost much more than the others. This is known as the Cadillac of Pentalobular drivers. It's got hardened CVM tool steel blades, chrome a finish, and is machined to be an exact fit. That said it did feel a lot like the BEST driver just above this one. I've only been using this one for a few weeks but my expectations are high. This is a driver that you should never have to replace. Well that is as long as none of your technicians borrow it and "forget" to return it.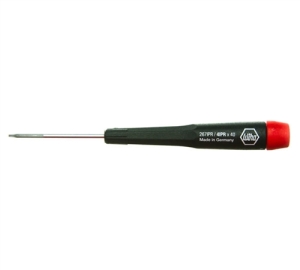 Wiha 26761 Precision P1 Pentalobe Screwdriver