Tristar Tester
A few weeks we posted a Tristar Tester video on YouTube demonstrating how to determine whether or not your phone or tablet has a charging system problem. You can scroll down this page to view it on site. The main advantage to this device is saving time and deciding whether and how to proceed with a repair.
*Please not that we ship only within the US at this time.
Using a Tristar Tester with the iPhone 7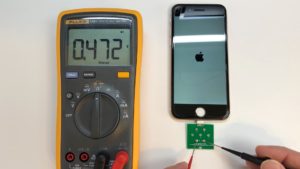 In the video below you'll see this process taking place in addition to some of the resistance values that we came up with on several working devices. Make sure that you are testing on the right side of the board as it is slightly counter intuitive going by the appearance of the Tristar Tester. You want your probes to touch the side that seems like it would be the back. Using the wrong side will not give you the correct numbers so we recommend testing a known good device first to make sure that you are operating the tester correctly and that your multi-meter is configured properly.
Technically you could perform this test from the inside of the device once you have mapped out which test point goes where. The idea of course is to use this beforehand so that you don't have to damage the waterproofing on something like an iPhone 6S, 7, 8, or X before you have a good idea as to whether replacing the battery will help. If you don't already have one an ammeter this is another valuable piece of testing equipment that can save you time and energy when dealing with phones and tablets that don't appear to be charging properly.
If you have questions or comments regarding the Tristar Tester please post them in the area below.